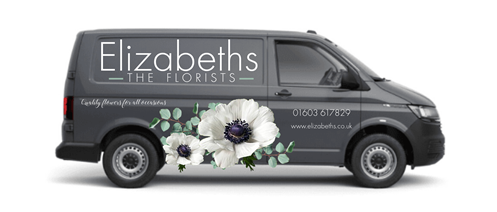 SAME DAY DELIVERY
We offer same day delivery on orders placed online before 11am, after this same day delivery may be available by telephone ordering (excluding valentines,mothers day, and Christmas).
Unfortunately we cannot guarantee a delivery time unless the flowers are for a funeral or prior agreed by telephone.
DELIVERY AREA
We have four delivery charges depending on where the delivery is going to:
£5.95: Norwich City Centre
(Postcode areas NR1, NR2 and NR3)
£6.95: Norwich Suburbs
(Postcode areas NR4, NR5, NR6, NR7, NR8, NR9 5 and NR12 7)
£7.95: County
(Postcode areas NR9 4, NR10, NR12 8, NR13, NR14 7, NR14 8, NR15, NR16 1 and NR18)
£8.95: National
(Any postcodes not included above)
Please note: national deliveries (out of our own Norwich delivery area) orders will be relayed to a local florist to the area and therefore will not be supplied by ourselves
WHAT IF THE RECIPIENT IS NOT AT HOME?
If the recipient is not at home we will either leave the flowers in a save place, with a neighbour or return them to the shop leaving a card informing the recipient of the location of their gift.
CLICK & COLLECT - (FREE)
We also offer a click and collect service where your order can be collected any time Monday - Friday, 9 - 3 at our store 87-89 Unthank Road, Norwich, NR2 2PE.
Please note our opening times have been altered due to Covid-19 and will continue to be reviewed.
---
We deliver flowers to:
Alpington
, Arminghall
, Ashwell Thorpe
, Attleborough
, Attlebridge
, Aylsham
, Barford
, Barnham Broom
, Bawburgh
, Bergh Apton
, Blofield
, Bowthorpe
, Bramerton
, Braconash
, Bramerton
, Brooke
, Brundall
, Caister St Edmunds
, Carleton Rode
, Coltishall
, Costessey
, Cringleford
, Crostwick
, Drayton
, Dunston
, Dussingdale
, East Carleton
, Easton
, Eaton
, Felthorpe
, Flordon
, Forncett End
, Forncett St Mary
, Forncett St Mary
, Framingham Earl
, Framingham Pigot
, Frettenham
, Fritton
, Great Melton
, Great Melton
, Great Moulton
, Great Plumstead
, Hainford
, Haveringland
, Heartsease
, Hellesdon
, Hempnall
, Hethal
, Hethersett
, Hevingham
, Honingham
, Horning
, Kimberley
, Horsford
, Horstead
, Horsham St Faiths
, Keswick
, Kirby Bedon
, Lakenham
, Lenwade
, Lingwood
, Little Melton
, Little Plumstead
, Long Stratton
, Marlingford
, Mulbarton
, Postwick
, Rackheath
, Ringland
, Rockland St Mary
, Salhouse
, Saxlingham Thorpe
, Sax Nethergate
, Saxlingham Green
, Shotesham
, Spixworth
, Sprowston
, St Faiths Newton
, Stoke Holy Cross
, Surlingham
, Swainsthorpe
, Swardeston
, Talcolneston
, Tasburgh
, Taverham
, Thorpe St Andrew
, Thorpe St Andrew
, Thorpe Park
, Thorpe End
, Thorpe Marriot
, Thurton
, Trowse
, Tuckswood
, Witchingham
, Wramplingham
, Wroxham
, Wymondham
, Wicklewood
, Yelverton
and Longwater Queens Hill